My #SleepNumber Experience (Part 2, Delivery and Installation)
Sleep Number Review (Delivery/Installation)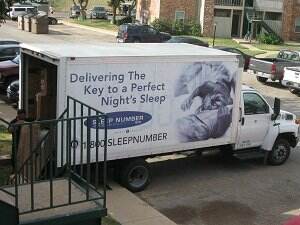 So the other day I told you about being asked to try out a Sleep Number bed. I already posted about the store visit. Now I'm going to show you the installation. 
     DH recently got a camera that does time lapse video, so he's been time lapsing everything lately. Including the installation of our m7 Sleep Number bed. And it's actually pretty neat, because to post pics of all the parts would have been a lot of pics. Seriously! I never knew a bed could have so many parts! So thanks to my wonderful hubby for saving me a lot of work (and making it more interesting for you to view :-). 
     So without further ado, here is how a m7 Sleep Number bed is assembled! It's in fast motion, so it won't take long!
     The last little bit at the end was after we'd gone in the other rooms and the kids came in to investigate. Between the bed assembly and the kids climbing on the bed, DH cut out the part where the delivery guy was explaining how everything worked, the warranty, etc. 
     He did also tell us that if we were to move, we wouldn't actually have to disassemble every part to move the bed. That's just the way they have to install it. 
     So that's it! Be sure to check back for my first Sleep Number post about the store visit, if you haven't yet. And check back next week for part 3!
     You can see all the beds Sleep Number has to offer on Sleep Number website and compare features! You can also find Sleep Number on facebook, twitter and YouTube.