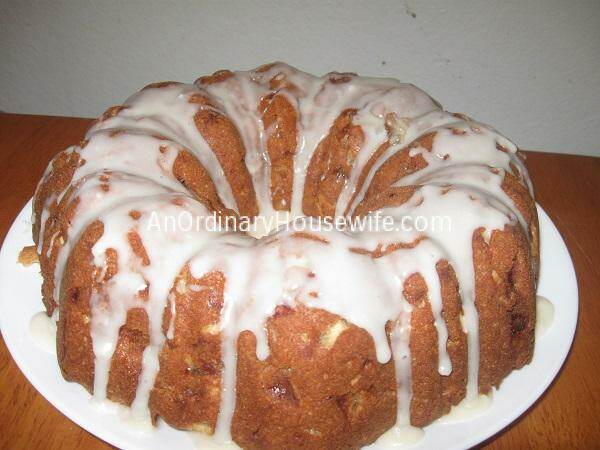 This spiced apple coffee cake is moist and delicious and is perfect when made in a bundt pan and drizzled with frosting! And apples are in season, so this is a perfect fall recipe!
Ingredients:
1 3/4 cups flour
1 1/2 tsp baking powder
1/4 tsp salt
3 tart cooking apples, coarsely chopped (about 4 cups)
1 TBSP lemon juice
1 TBSP apple juice
1/3 cup brown sugar
1 1/2 tsp cardamom
1 tsp cinnamon
1 stick butter (at room temp.)
1 8 oz pkg cream cheese (at room temp)
1 1/2 cups sugar
1 tsp vanilla
2 eggs (at room temp)
First, stir together the brown sugar, cardamom and cinnamon. Next, toss the chopped apples with the juices, followed by the brown sugar mixture.
Next beat together the butter, cream cheese, sugar and vanilla. Then add the eggs one at a time.
Mix together the flour, baking powder and salt and add in 2 or 3 parts to the butter/cream cheese mixture. Then fold the apples into the batter until evenly distributed. You don't want to overmix.
Pour the batter into a greased bundt pan and spread evenly. Bake in the oven preheated to 350 degrees about an hour, or until an inserted toothpick comes out clean. Allow pan to set about 5 minutes on a wire cooling rack while you make the vanilla glaze. Turn cake out onto a plate.
Vanilla Glaze
3/4 cup powdered sugar
2 TBSP milk
1/2 tsp vanilla
Mix together completely and drizzle the glaze and the hot cake.
Serve with coffee, hot chocolate or apple cider!
Save
Save
Save
Save