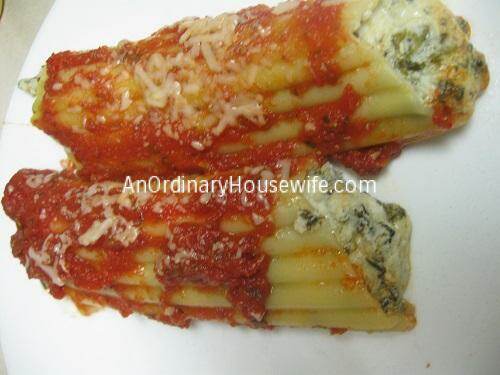 Sorry I didn't get a better angled picture. I didn't realize until I was uploading I probably should have taken the pic at an angle. But they taste better than they look in this pic! Oh well, I'll just have to make them again. 😉
1o Manicotti shells, prepared according to package directions
1 15 oz Ricotta cheese
1 cup mozarella
2 TBSP grated parmesan
1 13.5 oz can of spinach, drained
1 1/2 cups spaghetti sauce
1 tsp garlic powder
1 tsp dried basil
1 tsp dried oregano
In a 2 quart pot, boil the manicotti noodles 5 at a time. Meanwhile, mix together all the other ingredients, except the spaghetti sauce. Spread about 1/2 cup spaghetti sauce  in a 9×13 baking dish.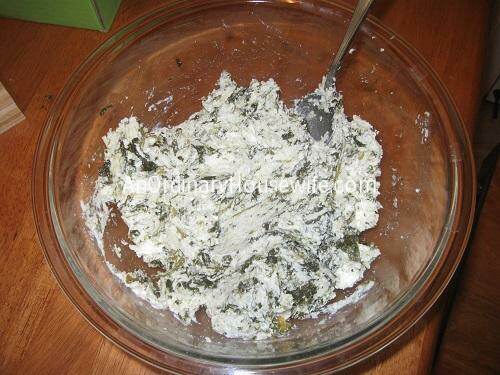 When the manicotti shells are cooked and drained an cooled at least enough to handle. Carefully spoon the cheese/spinach mixture into the shells. I use a baby spoon for this. Lay the filled shells in the baking dish. Cover with remaining sauce and sprinkle mozzarella or shredded Parmesan on top.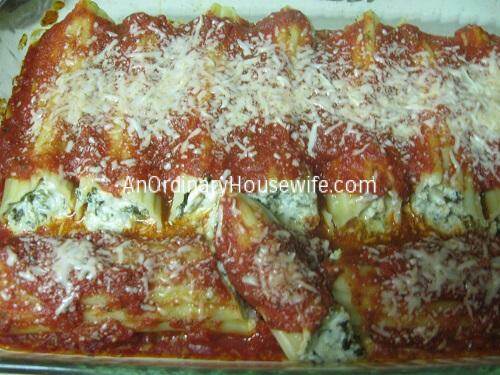 Cover with foil and bake at 350 degrees about 45 minutes or until bubbly. Serve with a salad or zucchini and garlic bread and enjoy!
Do you have a manicotti recipe you enjoy?