Tasty Tuesday: Cinnamon Rolls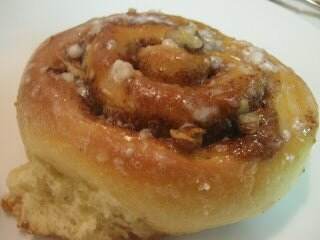 Here is a cinnamon roll recipe I got from over at Money Saving Mom. I've always had good reactions with these, and you can freeze the unbaked rolls for later.
     Now, the original recipe is actually for use with a bread machine, but I don't have one, so I did the "by hand" version, except I did the kneading with my Kitchenaid mixer.
Dough:
1 cup plus 2 tablespoons warm milk
3 tablespoons canola oil
2 eggs, lightly beaten
1/2 cup sugar
4 cups flour (Add a bit more if dough seems too wet after first few minutes of kneading)
1 teaspoon salt
3 teaspoons rapid rise yeast
     Mix everything but flour, then add flour and knead about 10 minutes. Allow dough to rise until doubled. Roll the dough into a large rectangle and spread it with filling (see below).
Roll up and cut into 10-15 rolls and place in greased cake pans. Bake at 325 degrees for 20 minutes or until browned. Add icing when removed from oven.
Filling:
4 tablespoons butter
1 1/3 cup brown sugar mixed with 2 tablespoons cinnamon
Optional raisins and/or pecans
Icing:1/2 (8 ounce) package cream cheese, softened
2 tablespoons butter, softened
1/2 cup sifted confectioners' sugar
1/4 teaspoon vanilla extract
     If you want to freeze some for later, lay some of the unbaked cinnamon rolls on a plate lined with wax paper and put them in the freezer long enough to freeze, then put them in a gallon sized ziploc bag. Take out the number you want to bake the night before, put them in a greased baking tray, and let them thaw in the refrigerator overnight. By morning they should be ready to take out and stick in the oven.
      The only changes I made to the original recipe (besides not doing it in a bread machine) is I doubled the filling, like Crystal did, and I used cream cheese frosting instead of the icing recipe included, just because I like cream cheese frosting better on my cinnamon rolls.