Weight Loss Wednesday: Kale
     Kale. It seems like for months I've been hearing and reading about this "superfood" everywhere. I've seen it on blogs, in magazines, other online articles. What's all the hype about? Well, having a few servings a week can offer huge benefits.
     According to WebMD, a cup of Kale contains 36 calories, 5 grams of fiber and is an excellent source of calcium, vitamins A, C, B6 and K, magnesium, copper, potassium, iron, manganese, and phosphorus. That's a lot of vitamins and nutrients!
     Vitamin K, especially, is beneficial because it can reduce the risk of cancer and is important for a variety of bodily functions, including normal blood clotting, antioxidant activity, and bone health.
     Some things to be aware of when eating kale is that vitamin K can interfere with anticoagulent drugs, so is you are taking any, consult with your doctor before including kale in your diet. Also, kale contains oxalates, which can interfere with the absorbtion of calcium, so save your other calcium rich foods for another meal!
     Now, kale is an aquired taste. It is similar to spinach or greens. You can eat it cooked or raw. I recommend completely removing the stems, since that is the bitter part. One increasingly popular way to prepare kale is kale chips.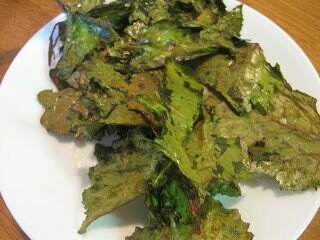 To make kale chips, tear the kale leaves (a bunch worth) into chip size pieces. Mix the leaves with 1 TBSP olive oil and massage the oil in the leaves so they are all lightly coated with oil. Lay them out on a couple of baking sheets. Do not overlap or they won't crisp properly.
     Very lightly sprinkle with sea salt and bake at 400 degrees about 20 minutes, or until crispy. go easy on the salt. It is easy to oversalt!
     Now, I'm not going to say these taste just like potato chips. Because they don't. Some people who have gotten very accustomed to kale chips think they are a perfect substitute for potato chips. And they are in the sense that they provide that salty, crunchy flavor. But like I said–aquired taste.
     Another recipe I tried was this Tuscan kale salad.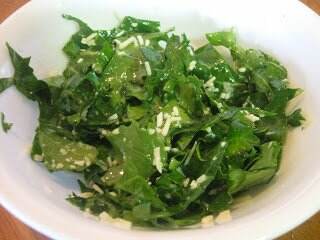 To make this salad you will need:
     1 cup of kale leaves (stems removed)
     1 TBSP olive oil
     1 mashed clove garlic
     1 tsp lemon juice 
     1-2 TBSP shredded parmesan cheese
     Mix together garlic, olive oil and lemon juice. Add to kale and allow to sit about 5 minutes. Add the cheese and toss. Enjoy!
     I hope you'll try out this superfood if you haven't already. I'm trying to consider more ways to get kale into my diet too!