Tasty Tuesday: Pepperoni Rolls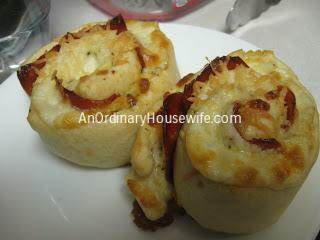 Who likes pepperoni rolls? This recipe uses the 1 hour breadstick recipe. And just like the breadsticks, they are awesome. In fact, they might be more awesome, because they has cheese! And pepperoni. But mostly cheese. 🙂
You will need:
3/4 cup warm water
1/2 TBSP yeast
1 TBSP sugar
2 cups flour
1/4 tsp salt
2-3 TBSP melted butter
1 cup mozzarella
desired amount of pepperoni
garlic powder, basil and oregano
grated parmesan
First, add the yeast and sugar to the warm water and allow it to sit about 5 minutes. It should bubble up some, if the yeast is good.

Add the yeast mixture to the mixing bowl and then add the flour and salt, 1/2 cup at a time. Mix on medium-high about 5 minutes. Allow dough to sit about 5 minutes. Use about a TBSP of the melted butter on a 9×12 baking sheet. Dump the dough onto the buttered baking sheet and allow to rest another 2 minutes. It would probably be ok if the pan's dimensions are slightly more or less–this is just the size pan I used.
Preheat the oven to 170 degrees. Spread the dough out, like you would pizza dough.
Spread the rest of the melted butter all over the
dough. Use a basting brush for best results. Sprinkle desired amount of garlic
powder, basil and oregano on the dough. Then add the cheese, followed by the pepperoni.
     Carefully roll the dough into a log.
     Then cut the log up in slices and place on the tray as shown below. Sprinkle with a little grated parmesan.
Bake at 170 degrees about 7-10 minutes, then increase the temperature to 350 degrees and bake another 10-12 minutes, until the rolls and cheese are slightly browned.
And that's it! Serve with your favorite Italian dish, or just have it for a snack with ranch or marinara on the side. I served it with minestrone soup.