Easy Ratatouille Recipe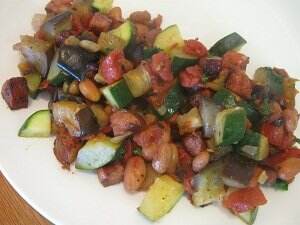 Finally, here is a pretty healthy recipe. It's an easy ratatouille recipe. I know a lot of the recipes I post aren't the healthiest–but they sure taste good! Anyway, this is healthy and takes about 30 minutes. So it's a little quicker than traditional ratatouille And it's a full meal.
     You will need a large skillet (maybe a wok) to make the full recipe. I only made half and it filled up my 12″ skillet pretty well. 
     For the full recipe you'll need: 
     2 TBSP olive oil
     1/2 cup diced onion
     2 cloves garlic
     1 eggplant, cubed
     1 14.5 oz can diced fire-roasted tomatoes, drained
     2 zuchini, cubed
     1 can cannellini beans (I used Navy beans) drained and rinsed
  1/4 cup parsley
     salt and pepper to taste

Heat oil in skillet on medium heat. Add onion and sautee about 5 minutes, until it starts to soften. Add garlic and eggplant. Cover and cook for 10 minutes. Add tomatoes and zucchini and cooked covered another 10 minutes. Stir in beans, parsley salt and pepper. Cook about 2-3 minutes until heated through. 
     We added a link of diced up cooked sausage with good results, but this is not necessary. It was a tasty addition, though!
 
This post has been linked up at one or more linkies. To see all the linkies I've participated in, check out my link party page!