There are a few affiliate links in this post for convenience.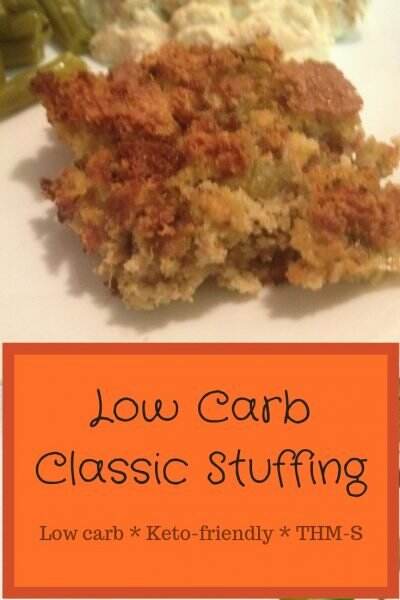 Repin this recipe for future reference!
I know many of my Trim Healthy Mama friends have been hoping for an on-plan stuffing recipe for the upcoming holidays. Since I'm not aware of another one being available, I decided to fulfill this dire need. 😉 This recipe is easily doubled if you need to feed more people.
This one has a good taste, but the texture is a little different from regular cornbread stuffing. This is probably not news to people who are accustomed to plan-friendly breads, but if you are newer, I just wanted to offer this heads up!
The bread base when it is first baked may throw you off and you may think there's no way this will turn out well. One you add the herbs and aromatics, however, it covers up the taste of the bread pretty well and leaves you with that classic stuffing taste! Don't cut back on the celery and onion, even if you think it might be too much. When it all comes together, it's just right!
And this would be an S on THM.
Ingredients:
3 TBSP Coconut Flour
3 TBSP Oat Fiber
(not oat flour!) – you can replace this with 2 additional TBSP of coconut flour if you don't want to use oat fiber or don't have any

1 TBSP almond flour
1 TBSP flax meal
Note: you can use 1/2 cup of THM baking blend in place of the 4 ingredients above. Baking blend can be purchased on the Trim Healthy Mama website or at Swanson, which has options for free shopping.

5 eggs (4 for bread base, 1 for stuffing)
1 tsp baking powder
1/2 sea salt
5 TBSP melted butter (4 for bread base, 1 for sauteing)
3/4 cup chopped onion
3/4 cup chopped celery
1 tsp dried sage
1 tsp dried thyme
1 cup chicken broth
To make the bread base:
First, melt 4 TBSP (1/2 stick) of butter. If you are going to mix in a glass bowl like I do, you can save yourself a dish by just melting the butter in the bowl, unless you refuse to use a microwave.  You can melt it on the stove top as well.
Beat 4 of the eggs and the melted butter together, then add the coconut and almond fours, oat fiber, flax meal, baking powder and salt. Mix thoroughly and put the mixture in an 8×8 baking dish.
Bake at 425 degrees for 20 minutes. Clean your mixing bowl while you're waiting. If you are planning to make the stuffing right away, you could also do the celery/onion mixture (described below) so it is ready when the bread gets out.
Reduce the oven heat to 400 degrees, or turn the oven off completely, if you plan to finish the stuffing later.
To make the stuffing:
Break the bread into crumbs and very small pieces. This is easy to do by hand if it is cooled off. Otherwise you can just use a fork to break it up.
Melt the last TBSP of butter in a skillet and add the minced celery. Saute until softened and add the minced onion, and dried sage and thyme and saute about another minute. It should start smelling reaally good by now!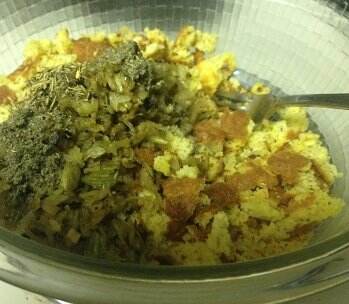 Mix the herbs/veggies with the crumbs and put it back in the 8×8 pan (which should be clean by now). In another bowl, beat the last egg and chicken broth together and pour evenly over the breadcrumb mixture.
Bake at 400 degrees about 35 minutes until top gets a little crispy.
We had this with my creamy crockpot ranch chicken for the test run, and it was great with that, but I'm thinking it would be perfect with turkey and some on-plan turkey gravy as well!
If you try it, let me know what you think!
Save
Save
Save
Save
Save