Roasted Zucchini Recipe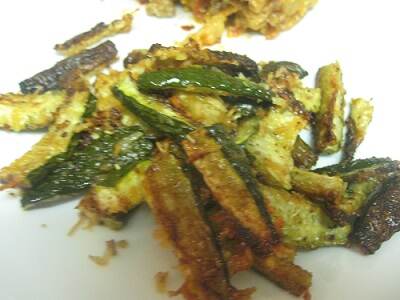 When I make Italian food, it tends to be a lot of bread and pasta. Lasagna, pizza, spaghetti and meatballs, garlic bread, breadsticks. When you're trying to incorporate more vegetables into your diet, it can be hard to find veggies that work well with those things.
Most people have salad as their vegetable, which is great, if your family will eat salad. I usually do eat a small salad with my pasta, but hubby and the kids are less inclined. So I started making roasted zucchini to go with my Italian dishes.
This can be easily adjusted for bigger families, but here is what I do for my family of four (which includes a 2 and 4 year old).
2 zucchinis
1 TBSP olive oil
1 1/2 tsp McCormick Perfect Pinch Garlic and Herb. You can use just garlic powder, but I really love this garlic and herb blend.
1 TBSP shredded Parmesan cheese (optional)
Cut the ends off the zucchini, then cut the zucchini into 3 big chunks. Then cut each of the chunks into strips (about 9 from each chunk). Pour the olive oil and garlic powder over the zucchini strips and use your fingers to gently rub the oil/garlic over all the zucchini strips.
Spread the zucchinis across a baking sheet and bake at 425 degrees about 30 minutes, until they start to brown a little. You can also roast them at 350 degrees for longer if you need to use the oven for something else (like lasagna) well.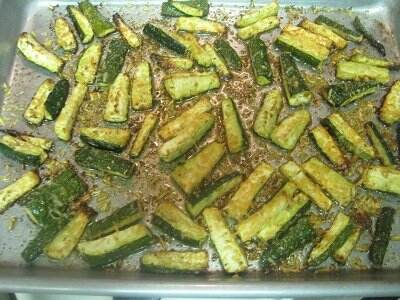 Sprinkle the shredded Parmesan over the cooked zucchini as soon as it is out of the oven.
Serve and let me know what you think!