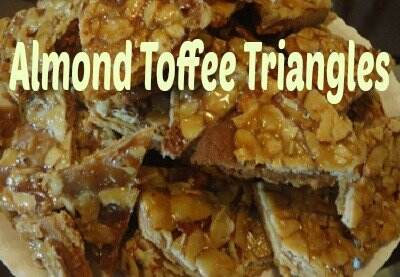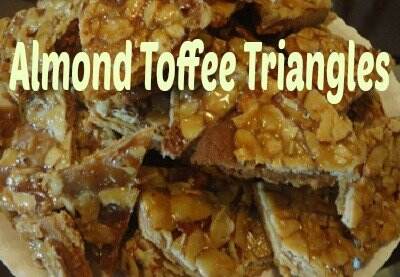 These Almond Toffee Triangles are a favorite of my husband's and it's a holiday tradition in his (and now our) family. So of course I had to learn to make them, just like other dishes he grew up with, like squash casserole and Victorian French Toast
.
These have a cookie base with a toffee topping. They are more brittle than cookies, but less than toffee.
Almond Toffee Triangles
1/2 cup packed brown sugar
2/3 cup margarine or butter, softened
1/2 cup Karo light or dark corn syrup
Mix brown brown sugar, margarine, corn syrup, egg and vanilla. Stir in flour and salt. Spread dough in  a greased

15 1/2×10 1/2x 1inch

 

jelly roll

pan and bake at 350 until light golden brown-18-20 min. After about 10 minutes into baking, prepare topping so it is ready when the cookie base comes out.

1/3 cup packed brown sugar
1/3 cup light or dark corn syrup
1/4 cup margarine or butter
Cook and stir brown sugar and corn syrup over medium heat until sugar is dissolved. Stir in margarine and cream. Allow to simmer, then turn off heat. Stir in vanilla and almonds.
Pour over baked layer and spread evenly. Return to oven and bake until light brown and set, about 15 minutes. Allow to cool and cut into 2 1/2 inch squares. Cut each square diagonally into halves.