Black Bean Cilantro Chicken with Brown Rice
I love easy recipes, don't you? That's why slow cooker recipes are so great. You can do a little prep ahead of time, throw it in your slow cooker, and it cooks while you go about your business–you can even leave the house!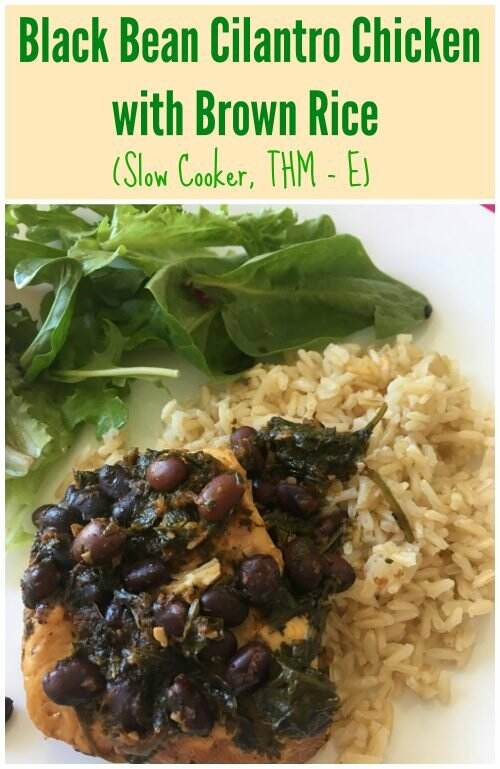 *Affiliate links may be included in this post. As an Amazon Associate, I earn from qualifying purchases. Please see full disclosure policy here.
I have an Instant Pot that has a slow cooker setting because I love the option of cooking it slow or cooking it fast. And a good chicken breast recipe is always a welcome addition to the menu!

This recipe does contain cilantro. So, if you don't like cilantro, this is probably not the recipe for you. Why do I mention this? Well, because on the post for my cilantro lime chicken breast recipe, I got a comment from someone saying they don't like cilantro. Hmm. Ok? So maybe you make something with "cilantro" in the title. Kinda like this recipe. But I digress.
If you are following the Trim Healthy Mama plan, this would be an E, as it's low-fat and does have a few good carbs. If you are not familiar with this plan, you can read about how to start Trim Healthy Mama.
But regardless of what eating plan you're following, if any at all, this recipe is worth your time (unless you hate cilantro).
My family loved this recipe. Even my picky 5 and 2 year olds, who I am hard pressed to actually get to finish a cooked meal, finished their plates. That alone makes it a keeper in my house. DH also really liked it. Make sure you pour some of the juice at the bottom of the pot over your chicken and rice to give it some extra flavor!
In our household, this recipe fed 2 adults and 3 kids ages 2-7. So it would probably feed 4 adults or teens pretty well. You could even bulk it up with more beans and rice if you need to. Of course, you can also double the recipe if you have more to feed. Beans, rice and cilantro are all pretty inexpensive. My husband was thrilled to have the leftover chicken to eat later, even without rice.
Black Bean Cilantro Chicken Chicken Recipe
3 large boneless skinless chicken breasts (about 1 1/2 lbs meat)
1 (15 oz) can of black beans, drained and rinsed (you can add a second can of beans, or a can of corn if you like, though corn will be more carb heavy)
2 bunches finely chopped fresh cilantro, stems removed
1 TBSP olive oil
1/4 cup lime juice
4 fresh garlic cloves, minced
1/2 cup of diced red onion
2 tsp chili powder
1/2 tsp salt
1/2 tsp pepper
I should have taken a picture of how I cut the chicken breasts up, but I did it, so I'm just going to describe it. First, I cut them in half horizontally. Like, the thinner more "pointy" half, to make a triangle. The thicker, rounded part I fileted. So, each breast became 3 pieces.
Remember, these are large "conventional" boneless breasts. If you use organic, they tend to be smaller, so you may not even need to cut them up. Even with the large ones, you don't have to cut them up if you don't want to.
By all means, just toss them in wholesale if you don't want to mess with cutting. But a whole large breast would be way too big for some of us. And I feel the flavor is more evenly distributed when cut up. Put those aside and start on the cilantro mixture.
So what I did was chop the onion and garlic in my food processor, then added one bunch of the cilantro (stems removed) the lime juice, oil and seasonings and turned it on for about 5 seconds and stopped it. It was so finely chopped, almost a little more than I wanted.
I diced the 2nd bunch of cilantro by hand. I mixed the onion/cilantro mixture, hand chopped cilantro and rinsed black beans in a medium sized bowl. You could probably chop it all by hand and be just fine, if you don't have a food processor. It will make a nice cilantro-bean "salad." Smells great too!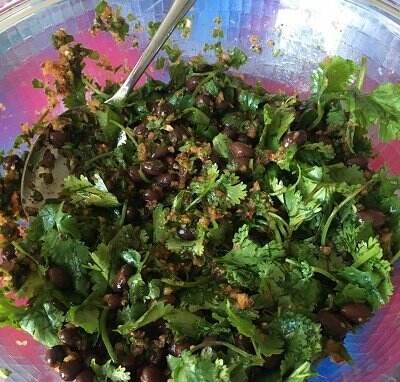 Put about 1/3 of the cilantro-bean mixture in the bottom of the slow-cooker.
Put a layer of chicken breast pieces on top of the mixture and cover with another 1/3 of the cilantro-bean mixture.
Place the rest of the chicken pieces in another layer, and top with the rest of the cilantro mixture.
Add about 1/4 cup of water to the slow-cooker and cook on LOW 6-8 hours or HIGH 4-5 hours.
About 45 minutes from time to serve, cook your brown rice. 1 cup dry brown rice, 1 cup chicken broth and 1 cup water in my rice cooker is what I like to use, to make 2 cups of cooked rice. You can make more if you want, of course!
When the chicken is done (it will be moist and juicy!) place a piece or two of the chicken over about 1/2 cup rice and top with some of the bean mixture and some of the cooked out juice drizzled over it. Serve with some salad greens and use a vinagrette or yogurt dressing for a well balanced meal!