Felt Sandwich Easy Sewing Project for Kids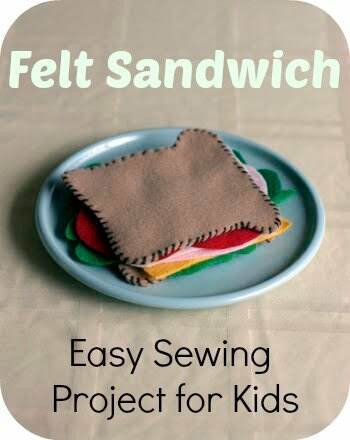 Order up! This crazy-easy sewing project is a fun way to get your child interested in the art of sewing while practicing shapes. After it's finished, she can give it to a younger sibling who will no doubt eat it up for playtime!
What You Need:
Squares of felt in tan and dark brown for bread, red for tomato slices, green for lettuce, pink for bologna or lunchmeat, yellow and white for cheese, purple for onion, etc.

Coordinating embroidery floss + needle
What You Do:
Before she starts, have your child examine a piece of sliced bread to study its shape. What shapes does it have on top? What shape does it look most like at the bottom?

Before she begins to cut the fabric, she should trace a bread shape onto a piece of paper. When she's done, have her cut it out and trace it onto tan-colored felt and cut four copies of the shape.

There are two ways she can make bread for her sandwich: she can measure the outside of the bread template and cut two strips of dark brown felt to fit around the edge of it, both the same length and ½" wide. This will become the crust of the bread and give the slices dimension, like real bread. To make the slices of bread seem realistic, sew the strip of brown felt together at the ends to form a loop. This loop should just fit around the perimeter of a piece of bread.

Next, she should sew the loop and two pieces of tan felt together, leaving one end open at the top, to make a sort of three-dimensional pouch. Help her slide a roughly ½-inch tall stack of scrap felt into the opening to fill out the slice of bread and sew the rest of the crust to the bread. Repeat with the remaining pieces.

If your child isn't quite comfortable with constructing a 3D slice, she can take a shortcut by sewing the two sides of the bread together with a darker, thicker thread to imitate the crust.

Give her a pat on the back – the hard part is over! Next, she can cut out round or square shapes of to make the sandwich fillings. The contents of the sandwich are up to her: she can carefully cut holes in an orange or yellow square to make Swiss cheese, or cut a square of green into a round shape with wavy edges to make lettuce. Tomato slices can be made by cutting triangular shapes into a red circle, or by laying triangles of pink felt over a red circle to simulate the sections. She can use thin embroidery thread or a fabric marker to add small veins and details to make her food look more realistic. Tell her to use her imagination!

If your child's not a fan of the deli yet, layers of light brown and purple felt are a great way to simulate peanut butter and jelly!
Save