Mediterranean Sampler Platter (THM-E)
This post contains affiliate links. I may receive a small commission when you purchase through my links, which helps support this blog!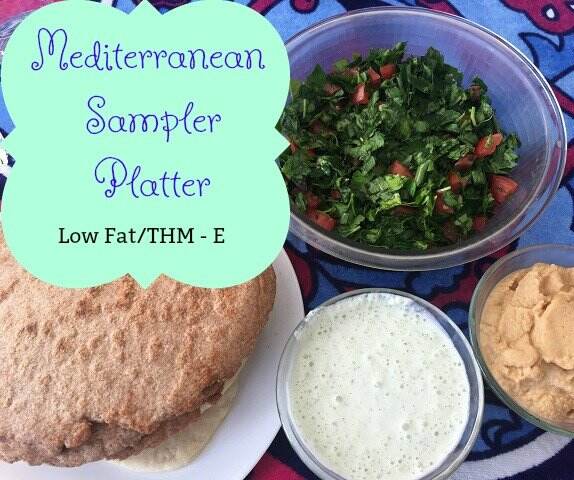 So once upon a time, years ago, I fell in love with certain dishes from Greek and Lebanese cuisine. But my thing is, I like a select few items. I personally like the combination of humus and tabouleh on pita bread. But then I also like tzaziki. But I don't think I've ever seen tzaziki and tabouleh on the same menu. But when I make my own mediterranean food at home, I may as well go all out, right?
So, I made what I like to call the "mediterranean sampler platter." It includes humus, tabouleh, tzaziki and homemade naan bread.  And it's all lower in fat than the traditional versions of these things, which makes it all an "E" on the Trim Healthy Mama plan. I seem to gravitate toward E's, don't I?
While there is some protein in the Greek yogurt from the tzaziki and the chickpeas in the humus, you may want to add some more substantial lean protein, such as this Greek chicken with tzaziki sauce. Note: If you plan to make the chicken, you should start working on that before anything else, as it needs to marinade a few hours.
If you can make these sauces a few hours ahead of time, so much the better, as it gives the flavors a chance to blend.
This tabouleh recipe makes a good size bowl, more than my family could eat in one sitting. I would say it makes about 5 cups. You can eat it as a salad, but I personally like to eat it with humus and naan bread. I didn't personally use the quinoa this time, but if you think you'll miss the wheat germ normally in tabouleh, cooked quinoa makes a good, on plan substitute.
Tabouleh
2 bunches Italian Parsley
3 vine ripe tomatoes
6 green onions
2 TBSP fresh mint leaves
1 TBSP olive oil
3 TBSP lemon juice
1/2 cup cooked and cooled quinoa (optional)
Chop up the parsley, green onions and mint leaves as fine as you can. Put the lemon juice and virgin olive oil in a small bowl, mix and add to parsley mix. Gently mix with clean hands, rubbing the juice into the parsley leaves. Dice up the vine tomatoes and add them to the parsley mix. Cover and put in the refrigerator until ready to serve.
To make the humus, it is best if you have a food processor. You may also try a blender if you don't have a food processor. It is very difficult to make humus by hand (I've tried).
Hummus
15 oz can garbanzo beans, juice reserved
3 TBSP FF Greek Yogurt
1 clove of fresh garlic (or more if you like more garlic)
2 TBSP lemon juice
1/2 tsp ground cumin
1/2 tsp sea salt
Drain the can of garbanzo beans, reserving the liquid. Put the beans and garlic in the food processor and process until the beans are all mashed up. Add the Greek yogurt, lemon juice, salt, cumin and 1/4 cup of the reserved bean juice. Process again. If it is still too thick, add in a little more bean juice until you reach the desired consistency. Cover and put in the refrigerator until ready to serve.
Tzaziki
2 cucumbers (the small salad cucumbers, not the huge ones. The ones I usually buy come about 6-7 in a bag)
1 1/2 cups plain Greek yogurt
2 tsp vinegar
1 tbsp lemon juice
1/4 tsp garlic powder
1 tsp Greek seasoning (or 1/4 tsp dried onion, 1/4 tsp dried mint, 1/2 tsp oregano)
½ tsp salt
To make the tzaziki sauce, chop up the cucumbers and put the pieces in a food processor, followed by the other tzaziki ingredients. Process all the ingredients about a minute. Scoop the sauce into a bowl with a lid and return to the fridge if it will be more than 30 minutes before serving.
Finally, it's time to make the naan bread. I tweaked my regular recipe to make it plan friendly. Instead of all-purpose flour, I use sprouted wheat flour. And then use a little less oil. This recipe makes four sprouted naan breads.
Naan Bread
2 cups sprouted wheat flour
1 TBSP baking powder
1 tsp salt
2 TBSP plain Greek yogurt
5 TBSP lukewarm water
2 tsp olive oil
Mix the dry ingredients together. Then mix the yogurt with the water until it becomes sort of milky. Add the yogurt mixture to the flour mixture, followed by the olive oil. Turn the dough onto a floured surface and knead about 5 minutes. Divide the dough into 4 equal balls and place in an oiled bowl, covered, for about 30 minutes.
Turn on a cast-iron skillet to medium high, so it can get really hot while you roll out the dough. With a rolling pin, roll the balls into disks about 1/5 inch thick. Coat the skillet with olive oil cooking spray and place a dough disk into the skillet. Cook about a minute and turn with a metal spatula and cook another minute. Remove the cooked naan to a plate and start on the next one. Repeat until all of the naan breads are cooked.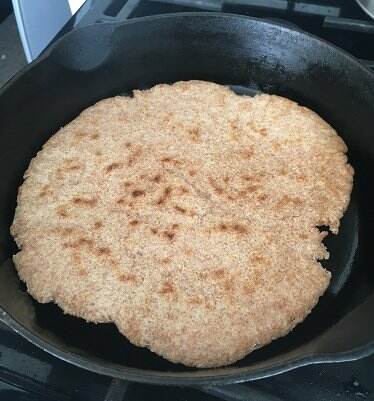 I find it easier to break the bread into pieces, and then I will spread humus on it and top it with tabouleh, or dip the pieces in the tzaziki. This is just a good, fresh tasting meal. It is a little labor intensive so I honestly don't do it too often, but sometimes I just get a craving for that combination of flavors and I have to make an exception!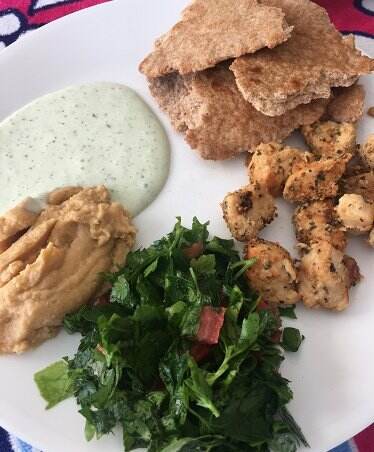 Save
Save
Save