This post contains affiliate links which means I may get a small commission if you click on my link and purchase
One of my biggest struggles on Trim Healthy Mama is getting in more veggies. This is especially difficult at breakfast time. Protein, no problem, since I usually have a glass of my fuel pull chocolate milk with breakfast for a little extra protein. And if I'm having an E meal I can add some fruit so I can have some "produce." But veggies are also important, so I'm always looking for new ways to incorporate them. So I came up with these cinnamon "zapples."
What are "zapples" you ask? They are zucchini apples, kind of like "zoodles" are zucchini noodles. You see, zucchini doesn't have a super strong flavor, which makes it a great veggie to hide in other foods, or to drown in other flavors. And the idea for cinnamon zapples came from my love of cinnamon apples (you know, like the syrupy ones you get from Cracker Barrel?) and my need to increase my veggie intake. And the really great part is these are low carb and low fat, which means they are a fuel pull (FP) for my fellow THM-ers. So, you can have them with any meal type. Enjoy them with sausage, bacon and eggs. Yay!
It's zucchini season right now, so you should be able to get really nice zucchini at your grocery store. Or maybe you're lucky enough to have a crop from your own garden! These only take about ten minutes to get ready, so it's actually slightly quicker than cinnamon apples. By the way, you can use this same recipe for apples–just replace the zucchini wedges with peeled and de-seeded green apples and omit the lemon juice. Those would be an E though.
For the single serve I recommend a very small pot (like a quart). If you don't have a pot that small, consider doubling the recipe and using a 2 quart-sized pot. Otherwise the water may be too shallow in the pot. You could add a little more liquid, but it might make the "syrup" more watery. Which is fine–it will still taste good! I also find omitting the butter keeps the syrup from carmelizing. There is just a dab in there (even doubling the recipe keeps you at FP mode with 1 tsp butter). Again, omitting the butter will not harm the flavor much, but may change the texture just a bit. You could also sprinkle a pinch of gluccie in there instead to make it more syrupy without the butter.
Cinnamon Apples (AKA Low Carb Cinnamon Apples)
Single Serve
1 cup peeled, sliced zucchini
1/4 cup water
1 TBSP lemon or lime juice
2-3 tsp Gentle Sweet , depending how sweet you want it (I make my own blend) If using Pyure, stick with 2 tsp
1/4 tsp ground cinnamon
1/2 tsp butter
First, peel and slice the zucchini into rounds and cut the rounds in half until you have about a cup (or 2 if you're doubling).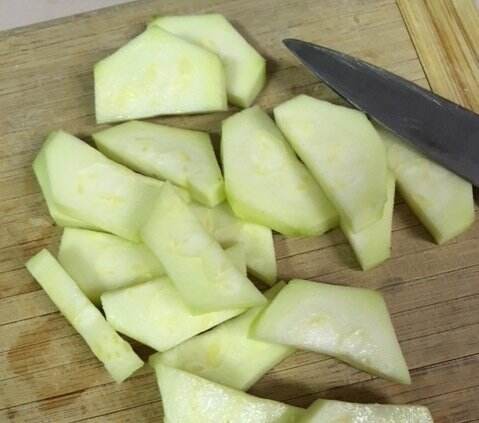 Put in a pint sized pot and add the other ingredients and stir until all the zucchini slices are coated.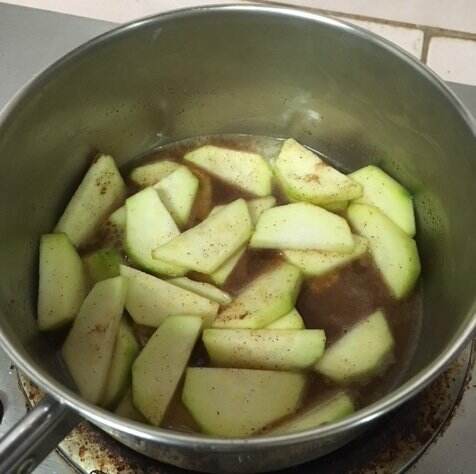 Cover and cook on medium high about seven minutes. You don't have to sit and stare at it, but don't leave it completely unattended. You want to be able to pierce the zapples with a fork, and the water to be syrupy. Careful not to let it burn! Dump it into a small bowl, or scoop out with slotted spoon to put on a plate to enjoy!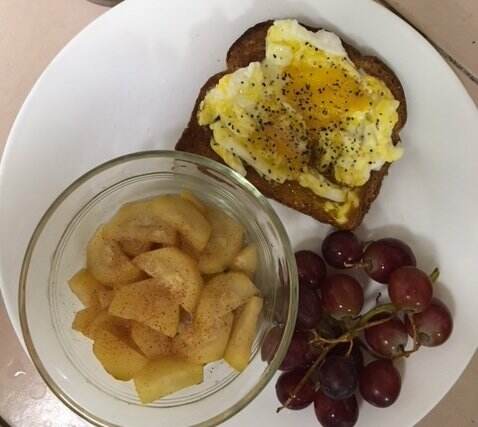 Before you go, make sure to check out all my other Trim Healthy Mama recipes!
Don't have a Trim Healthy Mama Plan book? You can currently get the audio version for free with a free trial to Audible (new subscriptions only). You get to choose 2 books to download, and the Trim Healthy Mama Plan book is currently on the list of available titles! Cancel within the 30 days if you wish–you still get to keep the books!
Be sure to also check out all my other THM friendly and healthy living products on my Amazon store!