Instant Pot Shredded Chicken Breast THM – FP
Shredded Chicken Breast Recipe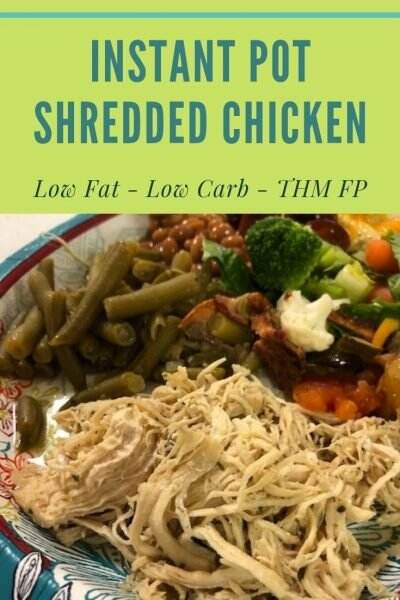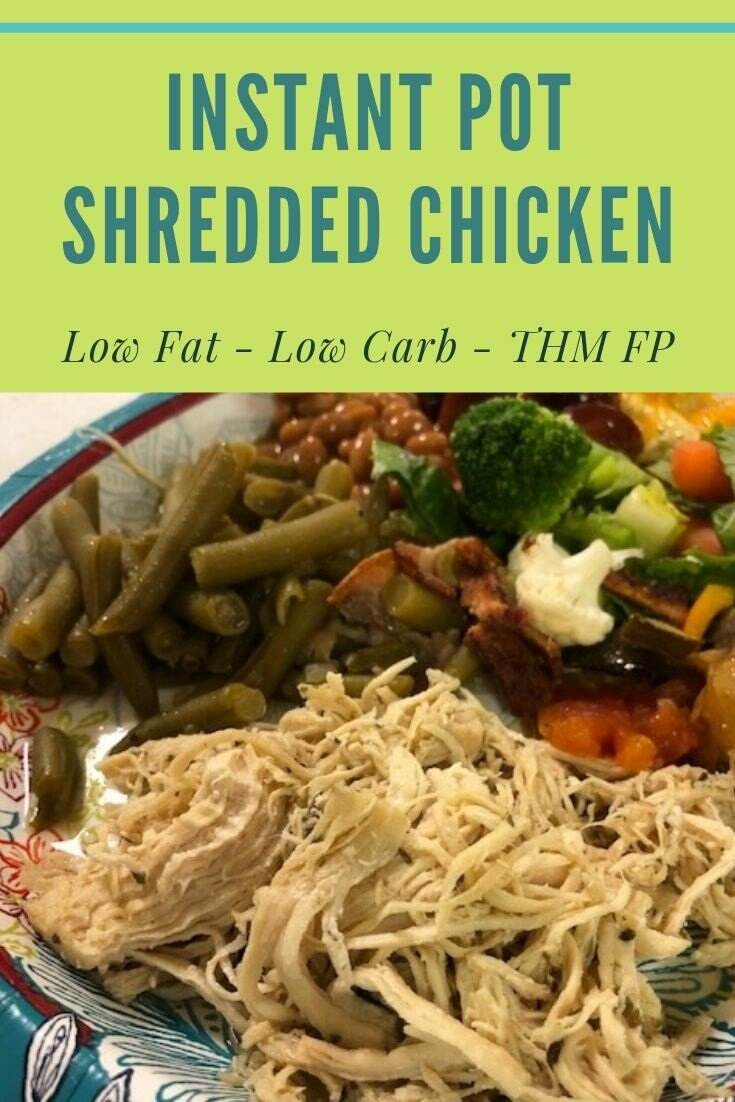 You know those days when you haven't really planned dinner ahead of time, you've got no meat thawed and you need to come up with a dinner idea quick? Well, this shredded chicken recipe is perfect for those days. It's fat free, flavorful, versatile and not dry. And you can make as little or as much as you need. Whether you need 2 chicken breasts or 10, this recipe is super adaptable.
*Affiliate links may be included in this post. Please see full disclosure policy here.
If you're following Trim Healthy Mama and have trouble finding an E or fuel pull meals, you're gonna want to hold on to this recipe. No idea what I'm talking about? Learn more about Trim Healthy Mama here. But whether you're following Trim Healthy Mama or not, this is a really simple, great tasting recipe. It's low fat and low carb. If you have an Instant Pot, you can take your chicken breasts right out of the freezer and have them done in an hour. If not, these would probably work in a regular slow cooker, but would take longer. And you would probably need to thaw first.
The flavor is pretty basic, but I've taken this to potlucks when I was too tired or rushed to do anything more complicated and everyone commented on how good it was. It also all got eaten. So it seemed like a recipe I should share with others. I'm not the only one who needs a throw together meal idea!
First of all, I always try to keep this poultry seasoning on hand. It's similar to the seasoning I use for my "Fauxtisserie Chicken" but with a couple minor changes, like omitting the salt and swapping the tarragon for chives. I typically make this seasoning mix when I'm making this meal, then there is extra left over to store for later. I use these containers to keep spice mixes, gluccie, pink salt and other things I only need small amounts of at a time. You could double the recipe and keep it in a pint-sized mason jar.
Poultry Seasoning
3 TBSP minced garlic
3 TBSP dried parsley
1 TBSP onion powder
4 1/2 tsp thyme
4 1/2 tsp dried chives
Now the rest of this recipe is assuming you already have the above "poultry mix" on hand. I'm going to give the measurements per chicken breast, that way you can make as few or as many as you need. I usually make 3 for my family, and I recommend at least 2 in the pot. The chicken breasts I use are the largish fairly cheap ones that are around 1/2 lb each. If you buy organic, those are likely smaller and you'll probably want to adjust the seasoning and salt a bit.
Per each chicken breast add:
1/2 cup chicken broth
1 TBSP poultry seasoning (from recipe above)
1/2 tsp salt
1/4 tsp pepper
If you are doing more than one layer of chicken breasts, you should add the seasoning/salt for the bottom layer before laying more chicken on top of it. If using a pressure cooker, put on "poultry" setting and raise time to 35 minutes (45 minutes if meat is still frozen). When it's done cooking, release the pressure, open the lid and shred the chicken breast using a couple of forks. It should come apart pretty easily.
Once the chicken is shredded, let it sit its juices until time to serve. I like to put it on the slow cooker setting at this point so it can simmer while I finish making my sides.
And that's it!
Side suggestions:
For FP meals, serve with non-starchy veggies with minimal fat, salad with yogurt based dressing, trim healthy noodles or serving of berries.
For E meals, serve with brown rice, roasted or baked sweet potatoes or sprouted bread, plus veggies of your choice.
For S meals, serve with non-starchy veggies with butter or cheese, mashed cauliflower, salad with a dressing of your choice, or buttered low carb noodles. It also goes well with my low carb stuffing!